Bainbridge Brewing is a small craft microbrewery located on Bainbridge Island. We're a short 35-minute sail by Washington State Ferries from Seattle or a quick drive on SR 305 from the Kitsap Peninsula. We take great pride in our microbrewery, and know there's a lot that goes into crafting the island's most delicious brews. Much of what we create utilizes pure imagination and creativity. But, we wouldn't get anywhere without science.  As a result, our uniquely crafted beers seek the perfect balance between both the art and science of brewing using only the very best ingredients.
The Bainbridge Brewing Taproom serves up way more than a deliciously cold pint of local craft beer. Our comfortable Taproom should be thought of in terms of historic pubs.  That is, a gathering space for people to meet and socialize while enjoying a pint of craft beer.  Now in our sixth year of business, our Taproom has indeed become a part of the very fabric of the community we live in; a true island destination.
A certain amount of Island pride has gone into everything we've produced. We're proud to be Bainbridge Island's premiere independent craft microbrewery, and look forward to many more years on this beautiful rock we call home.
We also have local Washington Hard Cider!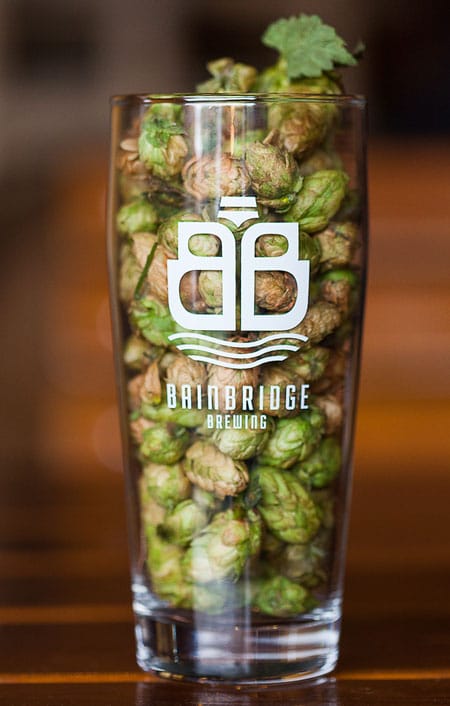 More about Bainbridge Brewing
We have six year-round beers, several rotating seasonal and specialty brews, and guest craft beers from other great Washington Craft Breweries. We also have local Washington ciders.  Learn more about our beer.
We started small back in 2012. Now, over five years later, we have had great success.  You can now also find our bottled beers at many of your favorite grocery stores, such as Albertsons, Central Market, Whole Foods, Safeway and other great grocery stores.  Learn more.
Weekly, Monthly and Annual Events
Something fun is always happening at the brewery.  Come in for a pint and play triva, watch the game or hear a local band. See the full list of events.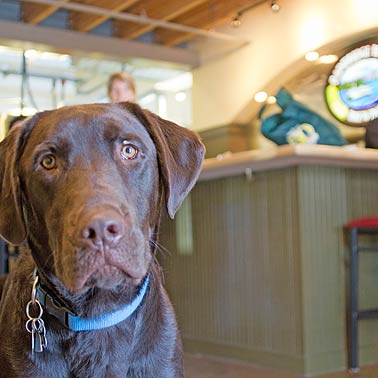 We Are Kid and Pet Friendly
We love pets on leashes, so bring Fido the next time you visit us. You'll be glad you did. As long as Fido is quiet, behaved, and on a leash, all is good.  People always ask if kids are allowed, too!  So, yes!  We are not a Tavern, and operate under a Microbrewery license.  Since we are not a bar, we aren't limited to patrons 21 and over.
The Brewery and Taproom is about 2.5 miles from the WSF ferry terminal.  We love when people walk or bicycle.  If walking or two wheeled transport isn't your thing, you can catch Kitsap Transit (via Route 93 or BI Ride) from the ferry terminal, or take one of the island's taxis, Uber, or Lyft. View all the ways to get to us.
Local Mobile Food Vendors
Throughout the week, in addition to our many great snacks, we have different mobile food vendors out in front of the Taproom for you to enjoy with your beer or cider.  View the full list and details.