Making a great beer requires a combination of art and science.  Science, in knowing what the gear and the ingredients can do.  Art, in imagining what beer can be.  Whether it's excellent versions of classic styles, or boundary pushing experimental brews, we strive to blend the art and science of beer.
But beer is also a social beverage.  The Taproom is part of our culture, and here in the Northwest that means locally brewed craft beer.  The local brewery is part of the fabric of the community, giving it character, individuality, and indeed, an air of hometown pride. Bainbridge Brewing is the island's brewery, and the island is as much a part of us as we are of it.
The Brewmaster
Hi There,
Russell Everett, Brewmaster and Co-founder of Bainbridge Brewing here.  I thought you might want to know a little more about me, and my philosophy on brewing.  I was raised on the island, graduated from Bainbridge High, and partnered up with my father, Chuck Everett, to create and run Bainbridge Brewing.  I was first a homebrewer for a decade and later brewed professionally.  In fact, while working in a brewpub several years ago, I was faced with the decision of becoming their Brewmaster, or go to law school.  I decided to see where law would take me, and found out, perhaps unsurprisingly, that I really enjoyed alcoholic beverage law.  After graduating and passing the Bar in Washington, I decided to combine my new talents with my old, and open Bainbridge Brewing.
I'm often amused when people ask what my favorite beer is, because I really can't tell you.  A great beer is about so many things, but suffice it to say, I like when a beer is done well.  Free of faults, well balanced, served right, and just what you're looking for.  Or perhaps it's something new.  Something exciting.  Something different.  Not to mention, every beer, especially one you don't care for, has something to teach you.
So my brewing philosophy is make it well, but don't be afraid to experiment.  As an award-winning Brewmaster, I've enjoyed using new ingredients, trying out new methods, and new combinations of flavors.  So while we work on perfecting classic styles, I also want to brew interesting seasonals and one-offs; things that really expand what beer can be.
Russell Everett
Brewmaster / Co-Founder
Bainbridge Brewing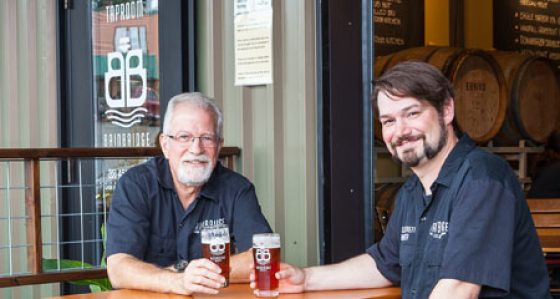 Father & Son Duo: Chuck Everett General Manager, Russell Everett Brewmaster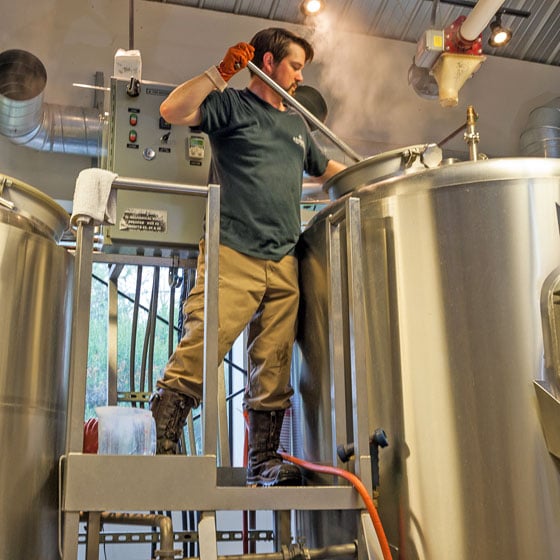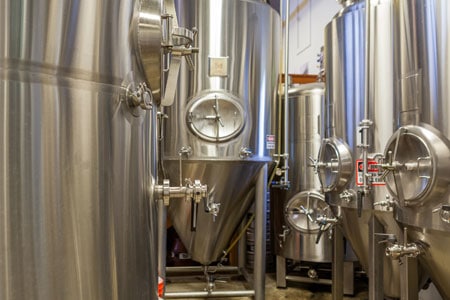 All of Bainbridge Brewing's craft beer is brewed right here next to the Taproom