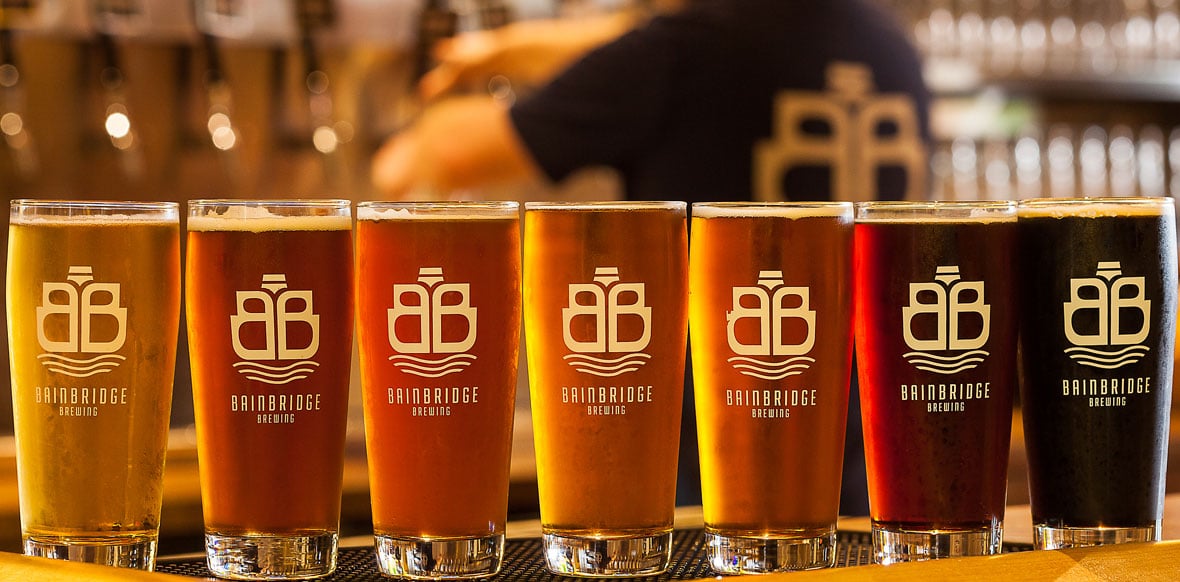 Fortunately here in the Northwest, we've got access to fantastic beer ingredients. We mainly source our malted barley malt from Northwest maltsters. And three-quarters of the US hops are grown just over the mountains in Yakima Valley.  This is the place to be for great Craft Beer! Luckily, we can also cut down a lot on our food miles, and keep our ingredients local. But when the very best ingredients are required for our unique German-style Ales, they are readily sourced from Germany.
Kommuter Kolsch - ABV: 5.0% IBU: 20
AVAILABLE IN DRAFT AND 22oz BOTTLES
Kolsch is a light, malty German ale, brewed like a lager for maximum clarity and a bright, clean, refreshing taste. Malt: German Pilsner, Vienna, Carahell, and Saurermalz. Hops: Sterling.
THE STORY: A spectre is haunting Bainbridge Island, the spectre of Kolsch! Thousands of people each day ride the ferry to and from Seattle. Kommuter Kolsch is our gift to those grim, huddled masses, straining under the yoke of 35 minutes spent drinking coffee, checking their email, chatting with associates, and enjoying the view. Victory to the Ferry-tariat!
Eagle Harbor IPA - ABV: 6.0% IBU: 60
AVAILABLE IN DRAFT AND 22oz BOTTLES
Eagle Harbor is our interpretation of a classic Northwest IPA. Recently the 'More is More!' camp have moved this noble style ever in the direction of increased alcohol and bitterness, flashy new hop varieties, and a tendency towards one-upsmanship. We've taken a step back, thought about what makes a great every-day IPA, and kept with our beloved NW IPA's roots. Hops include classic varieties, including Cascade, Centennial, Crystal, Amarillo, and Apollo. Malt: NW Pale, Light Crystal, Wheat, and Special Aromatic. Dryhopped and ran through several pounds of whole leaf Cascade in our hopback, Eagle Harbor presents a firm hop aroma, supported by enough malt character to keep you coming back for more.
THE STORY: As the story goes, India Pale Ale was a big, hoppy beer designed to survive passage in a ship's hold all the way From England to India. Eagle Harbor is the inlet that Downtown Winslow adjoins and the location of the WSF ferry terminal. Interestingly, Winslow was not the main settlement on the island for much of its history. Searching for a new harbor to build ever larger ships, in 1903 the Hall Brothers Shipyard relocated from Port Blakely to the new town of Winslow on Eagle Harbor. Eagle Harbor IPA is named for that fading dream of the Hall Brothers'enormous five-masted schooners, sailing to distant shores.
Arrow Point Amber - ABV: 5.2% IBU: 25
Arrow Point Amber is a year-round German-style Amber Ale / Altbier that is darker and maltier than our Kölsch Ale and has a strong malt-forward character accented with Noble hop flavor and aroma. Malt: Pilsner, Munich, Dark Munich, Acid, Caramunich and Blackprinz. Hops: Sterling and Crystal.
THE STORY: This beer is named after Arrow Point, a unique arrow point-shaped area along the NW shoreline of the island that included one of the many Mosquito Fleet stops to/from Seattle. Arrow Point also got its name from the many Native American artifacts found on the point.
Battle Point Stout - ABV: 6.6% IBU: 45
A big, bold, dark, American Stout. Battle Point maintains a complex roastiness, with hints of caramel and chocolate, without being overly burnt or bitter. Smooth as silk and dark as night. Malts: ESB, Flaked Oats, Crystal 60, Chocolate, Black, Black Barley, and just a hint of Extra Special Malt. Hops are Nugget, Apollo and Willamette.
THE STORY: Located on the West side of the Island, Battle Point was supposedly named for a battle between a raiding northern tribe and the local Suquamish, in which Chief Kitsap and his men were victorious. During World War II, a radio post was established there as part of a network for intercepting and decoding Japanese radio transmissions. Now it's a park, and when I was a kid we used to shoot off model rockets there. Battle Point Stout is named after this historical corner of the island.
Downrigger Double IPA - ABV: 8% IBU: 80
Sink to our level with this alluringly hoppy Northwest Double IPA. Downrigger is big, bold, and yet balanced, hitting just the right depth of flavor. Bainbridge Brewing - proudly trolling Bainbridge Island since 2012. Malt: NW Pale, Special Aromatic, Wheat, Premium Caramalt. Hops: Apollo, Amarillo, Cascade, Centennial, Falconer's Flight 7C's, and sometimes more. Available in draft and 22oz bottles.
Windfall Grapefruit IPA - ABV: 6% IBU: 60
Windfall Grapefruit IPA showcases the combination of several exciting new hops, paired with refreshing grapefruit. Malt: NW Pale, Special Aromatic and Premium English Caramalt. Hops: ADHA 529, ADHA 484, Cascade, Centennial and Azacca™.
Mossback Northwest Red - NW Red Ale - ABV: 5.5% IBU: 40
Classic. Set in his ways. A bit cranky. A bit mean. A bit bitter. A 'Mossback'... Our Seasonal Northwest Red Ale features the much beloved pair of Willamette and Cascade hops. Old school meets New, in the best of ways.
Washington SMaSH Fresh Hop - Washington Grown Fresh Hop Ale - ABV: 5.6% IBU: Unknown 100+%
Single Malt, Single Hop and Single State. A much anticipated, once-a-year release, this unique ale is brewed using all Washington State malt and hops. We use 200 pounds of fresh, whole-cone Amarillo hops, picked just the day before at Virgil Gamache Farms in Toppenish in Yakima Valley. The result is the essence of a time and place: the aroma of Washington's vast hopyards during the late summer harvest. Amarillo's distinctive grapefruit character shines, as well as subtler notes of tropical fruits and citrus.
Sol Patch Fresh Pumpkin Ale - Pumpkin Ale - ABV: 6.0% IBU: 35
Brewed once a year using only locally grown fresh pumpkins, Sol Patch Fresh Pumpkin Ale is an Autumn staple. Amber colored with hints of ginger, nutmeg, cinnamon, caramel and fresh roasted pumpkin.
2016 Viognier Blonde Sour - Barrel Aged Brett/Sour Ale with Viognier Grape Juice - ABV: 6.5% IBU: Unknown
One of our favorite annual projects, the 2016 Viognier Blonde Sour is our Bainbridge Blonde Ale that spent about a year and a half in four oak barrels, blended with Viognier grape juice pressed for us by Eagle Harbor Winery. The barrels have been inoculated with our house blend of Brett (funky 'wild' brettanomyces yeast strains) and reused for several years now to develop their unique character. Tart, funky, winey, delicious, and rare!
Wing Point Winter Ale - Northwest Winter Warmer - ABV: 7.0% IBU: 40 (November)
As the days get darker and the rains move in, it's time for a beer best drunk with friends in the comfort of a warm pub. Wing Point Winter Ale is our version of a Northwest Winter Warmer, full-bodied with a malt complexity showing caramel, toffee, dried fruit and chocolate, with a hint of hopiness to remind you of the fir trees outside. Which is appropriate because we put Doug Fir boughs in it too. Happy Holidays!