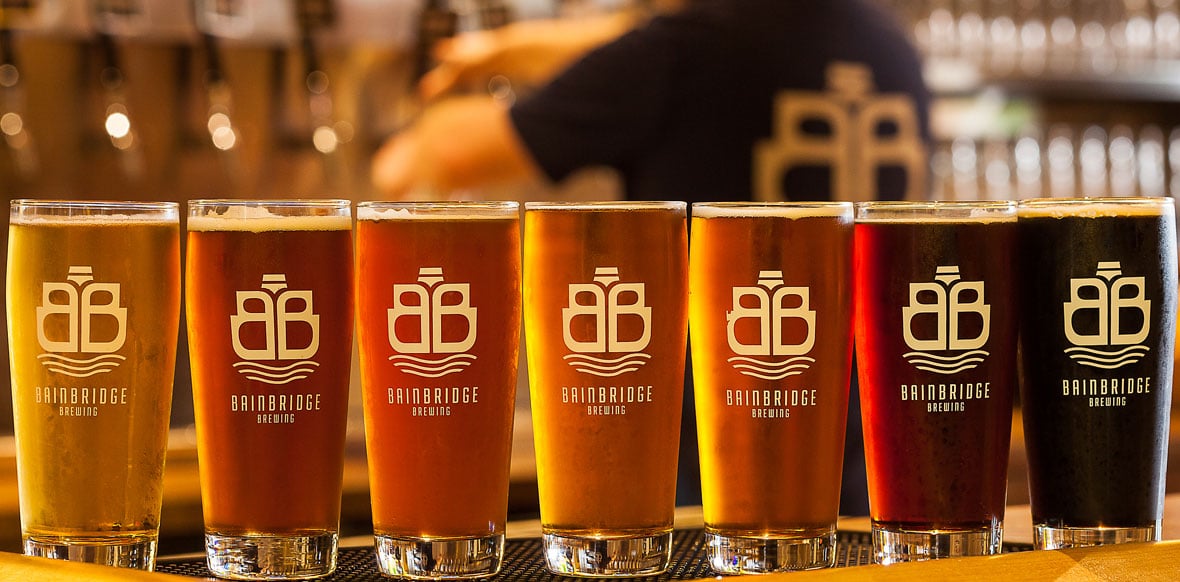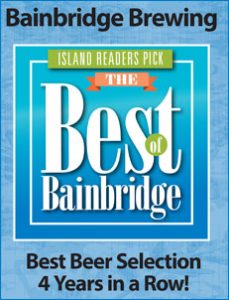 Fortunately, here in the Northwest, we've got access to some fantastic craft beer ingredients. We mainly source our malted barley malt from Northwest maltsters. And most of our hops, like three-quarters of the entire US hop crop, are grown just over the mountains in Yakima Valley. This is the place to be for great craft beer! As a result, we can cut down on our food miles and keep our ingredients mostly local. But when the very best ingredients are required, they are readily sourced from Germany and elsewhere.
Kommuter Kolsch (German-Style)
AVAILABLE IN DRAFT AND 22oz BOTTLES
Our Sip Northwest Magazine multi-award winning Kommuter Kolsch is a light, malty German-style ale, brewed like a lager for maximum clarity and a bright, clean, refreshing taste. Malt: German Pilsner, Vienna, Carahell, and Saurermalz. Hops: Sterling. 5.0% ABV. 20 IBU.
AVAILABLE IN DRAFT AND 22oz BOTTLES
Eagle Harbor is our WA Beer Award award-winning interpretation of a classic Northwest India Pale Ale (IPA). The 'More is More!' camp moved this noble style ever in the direction of increased alcohol and bitterness. But we've taken a step back, thought about what makes a great every-day IPA, and kept with our beloved Northwest IPA roots. Hops: Cascade, Centennial, Crystal, Mosaic and Apollo. Malt: NW Pale, Light Crystal, Wheat, and Special Aromatic. Dryhopped and ran through many pounds of whole leaf Cascade in our hopback, Eagle Harbor has a firm hop aroma, supported by enough malt character to keep you coming back for more. 6.0% ABV. 60 IBU.
Arrow Point Amber (German-Style)
Arrow Point is our WA Beer Award multi-award winning German-style Amber Altbier. It's darker and maltier than our Kölsch Ale and has a strong malt-forward character accented with Noble hop flavor and aroma. Malt: Pilsner, Munich, Dark Munich, Acid, Caramunich and Blackprinz. Hops: Sterling and Crystal. 5.2% ABV. 25 IBU.
A big, bold, dark, American Stout. Battle Point maintains a complex roastiness, with hints of caramel and chocolate, without being overly burnt or bitter. Smooth as silk and dark as night. Malts: ESB, Flaked Oats, Crystal 60, Chocolate, Black, Black Barley, and just a hint of Extra Special Malt. Hops are Nugget, Apollo and Willamette. 6.6% ABV. 45 IBU.
Sink to our level with this alluringly hoppy Northwest Double IPA. Downrigger is big, bold, and yet balanced, hitting just the right depth of flavor. Bainbridge Brewing – proudly trolling Bainbridge Island since 2012. Malt: NW Pale, Special Aromatic, Wheat and Premium Caramalt. Hops: Apollo, Mosaic, Cascade, Centennial and Falconer's Flight 7C's. 8.0% ABV. 80 IBU.
This WA Beer Award winning Windfall Grapefruit IPA showcases the combination of a well balanced Northwest IPA, paired with refreshing grapefruit citrus flavor. Malt: NW Pale, Special Aromatic, Wheat and Light Crystal. Hops: Apollo, Mosaic, Cascade, Centennial and Crystal. 6.0% ABV. 60 IBU.
Nude Doppelganger (Sandbox Series 1 - Belgian-inspired IPA)
First out of the box is our new one-off beer from the Sandbox Series: Nude Doppelganger. This beer is an experiment in making a juicy, interesting IPA using some of our favorite hop varieties, Weyermann's new Cologne Malt, and fermenting with a Belgian yeast strain. The result is a hazy, hoppy, slightly spicy, thing of beauty (unlike the brewer's own nude doppelganger…). Malt: NW Pale Ale, German Cologne, Wheat, C15 and Acid Malt. Hops: Apollo, Amarillo, Mosaic and Sterling. Yeast: Belgian. 5.8% ABV. 50 IBU.
Classic. Set in his ways. A bit cranky. A bit mean. A bit bitter. A 'Mossback'… Our seasonal Northwest Red Ale features the much beloved pair of Willamette and Cascade hops and a malty red ale. Old school meets New, in the best of ways. 5.5% ABV. 40 IBU.
Bainbridge Blonde (Belgian-Style)
Our multi- WA Beer Award winning Blonde Ale is a tasty Belgian-style Blonde Ale that showcases the unique classic Belgian yeast aromas and flavors of clove, spice and banana. 6.8% ABV. 20 IBU.   

Our American Stout is pushed with a mix of Nitrogen and CO2 gas right at the tap which creates smaller bubbles. The result is a uniquely smooth and creamy Stout. Taste the difference! 6.6% ABV. 45 IBU.
Himalayan Hydra (Sandbox Series 3 - Schwartzbier with Blackberries)
The third project in our Sandbox Series, Himalayan Hydra, is dedicated to that unstoppable beast released by Luther Burbank upon an unsuspecting Pacific Northwest way back in 1894: the Himalayan Blackberry. This ale is malty, confusingly dark (without being overly astringent or roasty) and chock full of rich blackberry flavor from Oregon blackberries. "Drink one pint, and two more shall take its place…"  5.0% ABV. 25 IBU.
Bainbridge Chocolate Porter (Baltic-Style)
A seasonal award-winning version of a big Baltic-style Porter that's dark and malty with hints of raisins and plums. We use our hybrid Kolsch ale strain and ferment it cool to add a clean smoothness. Then we finish it off with lots of chocolaty cacao nibs from our good neighbors, Powell and Jones Chocolates. 6.9% ABV. 30 IBU.
2016 Viognier Blonde (Barrel Aged Brett Sour)
One of our favorite annual projects, the WA Beer Award winning Viognier Blonde is our Bainbridge Blonde Ale that spent about a year and a half in oak barrels, then blended with Viognier grape juice pressed for us by our island friends at Eagle Harbor Winery. The barrels have been inoculated with our house blend of Brett (funky 'wild' brettanomyces yeast strains) and reused for several years now to develop their unique character. Tart, funky, winey, delicious, and rare! 6.5% ABV.
Wing Point Winter (NW Winter Warmer)
With shorter darker days and rainy weather, it's time for a beer best drunk with friends in the comfort of a warm pub. Wing Point is our version of a Northwest Winter Warmer, full-bodied with a malt complexity showing caramel, toffee, dried fruit and chocolate, with a hint of hopiness to remind you of the fir trees outside. Which is appropriate because we put Doug Fir boughs in it too. 7.0% ABV. 40 IBU.
Ach! Brewed for Rabbie Burns in honor of real men in skirts everywhere, Bonnie Prince is our big, seasonal Scotch Wee Heavy. Rich and malty, with just a hint of Highland peat smoke, it's the perfect accompaniment to a warm winter's haggis. 7.0% ABV. 30 IBU.