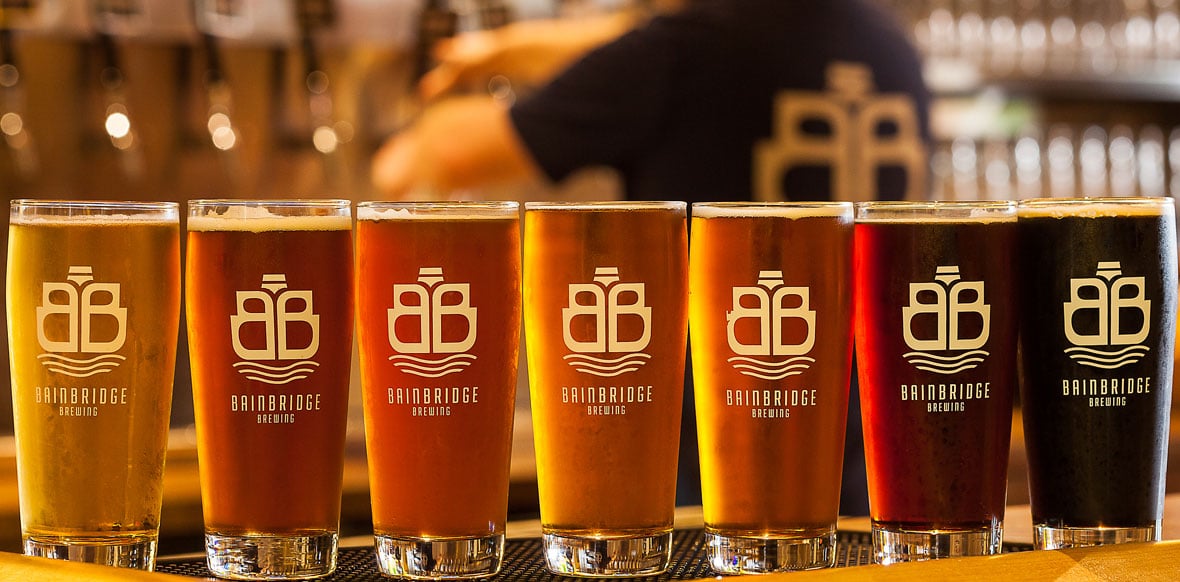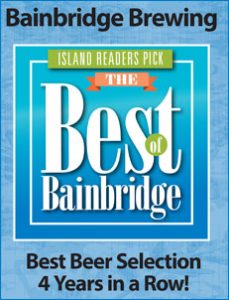 Here in the Northwest we've got access to fantastic beer ingredients. We mainly source our malted barley from Northwest maltsters. And most of our hops are grown just over the mountains in the Yakima Valley. This is the place to be for great craft beer! As a result, we can cut down on food miles and keep our ingredients mostly local. But when the very best ingredients are required, they are readily sourced from Germany and elsewhere. Only the best will do.
Kommuter Kolsch (German-Style)
AVAILABLE IN DRAFT AND 22oz BOTTLES
Our 2018 WA Brewers' Choice Awards Gold Medal winner and Sip Northwest Magazine multi-award winning Kommuter Kolsch is a light, malty German-style ale, brewed like a lager for maximum clarity and a bright, clean, refreshing taste. Malt: German Pilsner, Vienna, Carahell, and Saurermalz. Hops: Sterling. 5% ABV. 20 IBU.
AVAILABLE IN DRAFT AND 22oz BOTTLES
Eagle Harbor is our WA Beer Award award-winning interpretation of a classic Northwest India Pale Ale (IPA). The 'More is More!' camp moved this noble style ever in the direction of increased alcohol and bitterness. But we've taken a step back, thought about what makes a great every-day IPA, and kept with our beloved Northwest IPA roots. Hops: Cascade, Centennial, Crystal, Mosaic and Apollo. Malt: NW Pale, Light Crystal, Wheat, and Special Aromatic. Dryhopped and ran through many pounds of whole leaf Cascade in our hopback, Eagle Harbor has a firm hop aroma, supported by enough malt character to keep you coming back for more. 6% ABV. 60 IBU.
Arrow Point Amber (German-Style Altbier)
Arrow Point is our WA Beer Award multi-award winning German-style Amber Altbier. It's darker and maltier than our Kölsch Ale and has a strong malt-forward character accented with Noble hop flavor and aroma. Malt: Pilsner, Munich, Dark Munich, Acid, Caramunich and Blackprinz. Hops: Sterling and Crystal. 5.2% ABV. 25 IBU.
A big, bold, dark, American Stout. Battle Point maintains a complex roastiness, with hints of caramel and chocolate, without being overly burnt or bitter. Smooth as silk and dark as night. Malts: ESB, Flaked Oats, Crystal 60, Chocolate, Black, Black Barley, and just a hint of Extra Special Malt. Hops are Nugget, Apollo and Willamette. 6.6% ABV. 45 IBU.
Downrigger Brut Double IPA
Sink to our level with this alluringly hoppy and dry Brut-style Double IPA. Brut IPA is a cutting edge emerging beer style recently coming out of San Francisco. Downrigger is a big beer (9.3%) with a big bold taste, hitting just the right depth of flavor. It was made as dry as possible through the use of a distilling enzyme that pushes beer fermentability to 100% thereby creating a sort of "hop champagne." Bainbridge Brewing – proudly trolling Bainbridge Island since 2012. Malt: NW Pale, Special Aromatic, Wheat and Premium Caramalt. Hops: Apollo, Mosaic, Cascade, Centennial and Falconer's Flight 7C's. 9.3% ABV. 90 IBU.
This WA Beer Award winning Windfall Grapefruit IPA showcases the combination of a well balanced Northwest IPA, paired with refreshing grapefruit citrus flavor. Malt: NW Pale, Special Aromatic, Wheat and Light Crystal. Hops: Apollo, Mosaic, Cascade, Centennial and Crystal. 6% ABV. 60 IBU.
Et Tu, Bainbridge? (Brut IPA)
Experimental Sandbox Series # 8 is our version of a cutting edge emerging beer style coming out of San Francisco: Brut IPA. The idea behind Et Tu, Bainbridge? (Latin: Even You, Bainbridge?) is to make the beer as dry as possible to create a sort of "Hop Champagne," allowing the hops to take center stage in a super light colored, crazy dry but not overly bitter beer. The mash consisted of Pilsner malt, plus some corn for softness and light color, and rye for a little bit of rye twang. Then the beer was hit with an enzyme commonly used in distilling to break up any unfermentable sugars into simpler ones that the yeast can handle, taking the beer's fermentability from the usual 80% up to 100%. Amarillo hops give their classic grapefruit character, with tropical and blackberry notes from Mosaic hops. Experimental hops HBC 342 gives a rounded pleasant light citrus, tropical, and melon character. It's a very unique, scary delicious, weirdo thing… 6.5% ABV. 35 IBU.
Chocolate Toe Jam Barleywine 2017
Out from the cellar, this is our Old Toe Jam Barleywine finished with cacao nibs. It's a big malty, dark ale with chocolate, caramel and honey notes. 9% ABV.
Nolo Contendere 2017 (Barrel Aged Brett IPA)
Our latest in a series of "no contest" barrel-aged sours, this unique ale was created using a light wort and a fresh pitch of brett. After six months in oak wine barrels, it was heavily dry-hopped with tropical and fruity Amarillo and Mosaic hops, resulting in a nicely tart and hoppy Brett IPA. 7.3% ABV.
Classic. set in his ways. A bit cranky. A bit bitter. A "Mossback"… Our seasonal hop-forward Northwest Red Ale features the much beloved Willamette and Cascade hops. Old School meets New, in the best of ways. 5.5% ABV. 40 IBU.
Mosquito Fleet Summer IPA
Our 2018 WA Brewers Festival Gold Medal winner, Mosquito Fleet Summer IPA is a hybrid of hoppy India Pale Ale and light and malty German-style Kolsch Ale, creating a uniquely refreshing light and hoppy ale for the warmer months. 4.5% ABV. 40 IBU.
For a unique flavor, try one of our craft beers on nitro, pushed with a Nitrogen / CO2 gas mix for a smooth and creamy taste. Beers on our nitro tap vary weekly. So see what's new.
At the taproom, we typically feature an interesting range of guest beers from other Washington breweries. Come check out what's new from WA Beer!