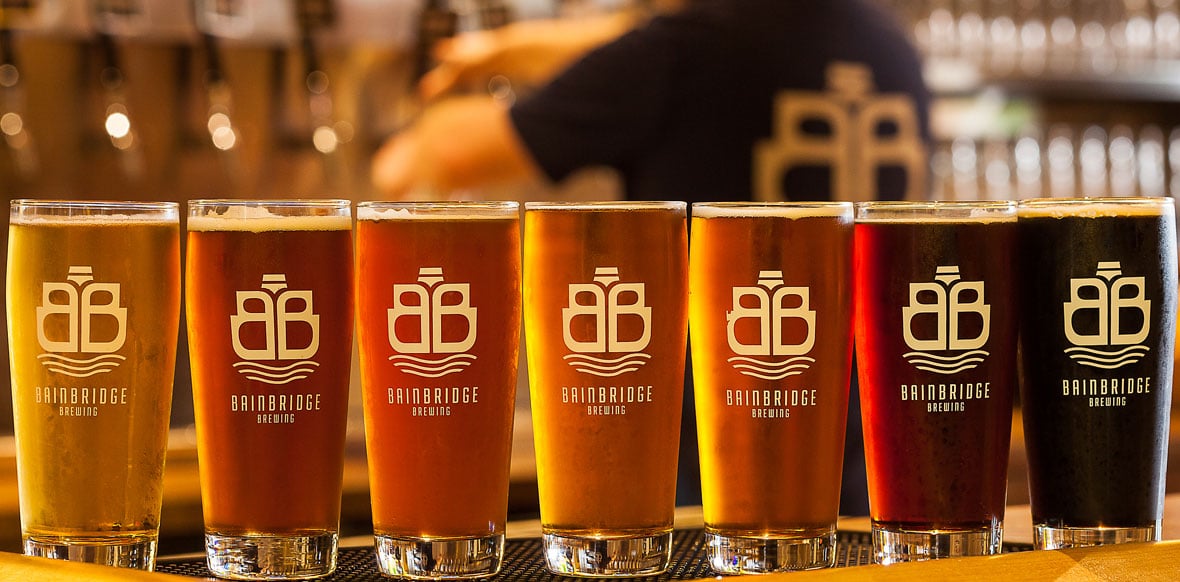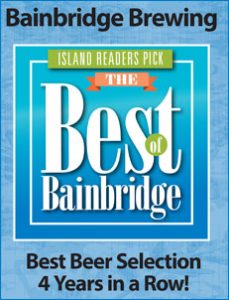 We get most of our malted barley from NW sources and most of our hops are grown here in WA's Yakima Valley. This is the place to be for great craft beer! And when the very best malt is required for our European style beers, for example, it is readily sourced from the UK, Germany and France. Only the best will do. Please check out our year round and rotating seasonal/specialty beers below:
Kommuter Kolsch (German-Style)
AVAILABLE IN DRAFT AND 22oz BOTTLES
Our 2018 WA Brewers' Choice Awards Gold Medal winner and Sip Northwest Magazine multi-award winning Kommuter Kolsch is a light, malty German-style ale, brewed like a lager for maximum clarity and a bright, clean, refreshing taste. Malt: German Pilsner, Vienna, Carahell, and Saurermalz. Hops: Sterling. 5% ABV. 20 IBU.
Eagle Harbor IPA (NW Style)
AVAILABLE IN DRAFT AND 22oz BOTTLES
Eagle Harbor is our WA Beer Award award-winning interpretation of a classic Northwest India Pale Ale (IPA). The 'More is More!' camp moved this noble style ever in the direction of increased alcohol and bitterness. But we've taken a step back, thought about what makes a great every-day IPA, and kept with our beloved Northwest IPA roots. Malt: NW Pale. Hops: Cascade, Centennial, Crystal, Mosaic, Azacca and Apollo. Dryhopped and ran through many pounds of whole leaf Cascade in our hopback, Eagle Harbor has a firm hop aroma, supported by enough malt character to keep you coming back for more. 6% ABV. 60 IBU.
Arrow Point Amber (German-Style Altbier)
Arrow Point is our WA Beer Award, multi-award winning German-style Amber Altbier. It's darker and maltier than our Kölsch Ale and has a strong malt-forward character accented with Noble hop flavor and aroma. Malt: Pilsner, Vienna, Red-X, Blackprinz, Carared and Aromatic. Hops: Sterling. 5.5% ABV. 30 IBU.
A big, bold, dark, American Stout. Battle Point maintains a complex roastiness, with hints of caramel and chocolate, without being overly burnt or bitter. Smooth as silk and dark as night. Malts: NW Pale, ESB, Flaked Oats, Crystal, Chocolate, Cherry Smoked, Black Patent, Black Barley, and just a hint of Extra Special Malt. Hops: Apollo. 6.0% ABV. 30 IBU.
Downrigger Brut Double IPA
Sink to our level with this alluringly hoppy but dry Brut-style Double IPA. Brut IPA is a cutting edge, emerging beer style coming out of San Francisco. Downrigger is a big beer (8%) with a big bold taste, hitting just the right depth of flavor. It was made as dry as possible through the use of a distilling enzyme that pushes beer fermentability to 100% thereby creating a "hop champagne." Bainbridge Brewing – proudly trolling Bainbridge Island since 2012. Malt: NW Pale and Sauermalz. Hops: Apollo, Azacca, Falconer's Flight 7C's and Centennial. 8% ABV. 80 IBU.
This WA Beer Award winning Windfall Grapefruit IPA showcases the combination of a well balanced Northwest IPA, paired with refreshing grapefruit citrus flavor. Malt: NW Pale, Wheat, Special Aromatic and Light Crystal. Hops: Apollo, Mosaic, Cascade, Centennial, Azacca and Crystal. 6% ABV. 60 IBU.
This experimental Sandbox Series #9 beer is the taste of Summer here on the island. Raspberry Beeret is a unique Fruit Beer brewed with over 150 pounds of fresh raspberries harvested at nearby Suyematsu Farm. This unique ale is tart, refreshingly raspberry, and very pink! 4.5% ABV. 
Bull Kelp Gose - Help Support PSRF
Our experimental Sandbox Series #10 beer is Bull Kelp Gose, a light, tart, and kettle-soured Gose ("Goh-zuh") ale. Its uniquely brewed using local ingredients including Skagit Valley Wheat and Pilsner malts (50/50), plus freshly harvested Bull Kelp and Puget Sound seawater. Gose is a revived historical beer style from the area around the Gose River and Leipzig, Germany. And ours is similarly tart, salty and savory! It has a hint of sweetness from the Skagit Valley wheat malt and orange flavor from added coriander. Brewed in collaboration with the Puget Sound Restoration Fund (PSRF), $1 from each pint sold here at the Brewery & Taproom and Bainbridge Brewing Alehouse is being donated to PSRF to help fund the ongoing restoration of the region's kelp, seagrass and oyster habitats. A very unique and tasty beer with a cause! 4.4% ABV.    
Sol Patch Fresh Pumpkin Ale
Brewed once a year using only locally grown and roasted fresh island pumpkins from the nearby Suyematu Farm, Sol Patch is an Autumn staple here at the brewery. Ours is very fresh. We will not use last year's frozen pumpkin puree. Its a nice malty, amber-colored beer with just the right amount of ginger, nutmeg, cinnamon, caramel and pumpkin flavors to make it a Fall and holiday season treat. 6.6% ABV. 
2014 Nolo Contendere (Barrel Aged Sour Red Ale)
Out of our cellar for the Fall is our take on a Flemish-Style Sour Red Ale that's aged now for over three years in red wine barrels. Its tart and smooth. 6.6% ABV.
Classic. set in his ways. A bit cranky. A bit bitter. A "Mossback"… Our seasonal hop-forward Northwest Red Ale features the much beloved Willamette and Cascade hops. Old School meets New, in the best of ways. Malt: NW Pale, Vienna, CaraRed, Crystal Light, Crystal Dark, Melanoidin and Black Malts. Hops: Apollo, Cascade and Willamette. 5.5% ABV. 40 IBU.
Perhaps our most anticipated beer of the year, this beer is Single Malt and Single Hop (SMaSH), and also Single State! This unique Fresh Hop beer is brewed using all Washington State malt and hops. We use over 200 pounds of fresh, whole-cone wet Amarillo hops, picked just the day before at Virgil Gamache Farms in Toppenish, Yakima Valley. The result is the essence of a time and place: the aroma of Washington's vast hopyards during the late Summer harvest. Amarillo's distinctive grapefruit character shines, as well as subtler notes of tropical fruits and other citrus flavors. The malt this year is local Skagit Valley Malting's NZ-151, bred locally at WSU for our region. 6% ABV.  
For a unique flavor, try one of our craft beers on nitro, pushed with a Nitrogen / CO2 gas mix for a smooth and creamy taste. Beers on our nitro tap vary weekly. So see what's new. On deck are two nitro beers: Nitro Stout and Nitro Pumpkin Stout. 
6th Anniversary Ale (Brut Triple IPA)
This year to celebrate our sixth anniversary in 2018, we produced an extra big, extra hoppy, extra extreme version of Eh Tu, Bainbridge? Brut IPA. Six years also called for six hop varieties. It's light, very dry and crisp. Yet beware, its pretty strong and incredibly hoppy. 9.9% ABV.  
At both brewery locations, we also have a range of other guest craft beers on tap. Come check out what's new from our fellow WA Beer friends and other great breweries!