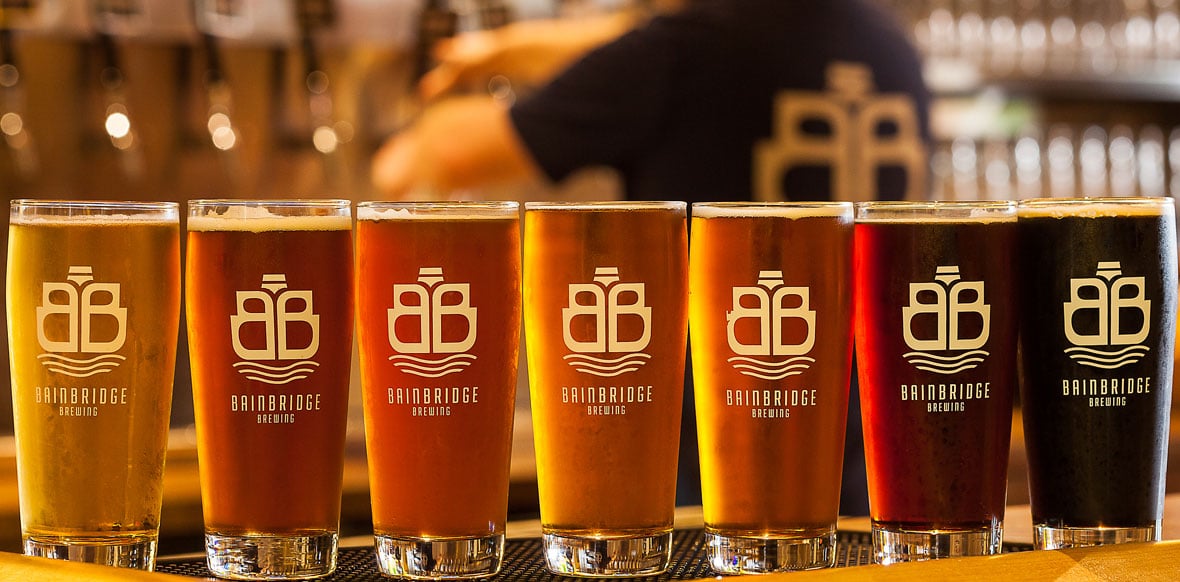 You can find our beer at both of our brewery locales, as well as other pubs, restaurants and markets in Western Washington. You can get our beer in several formats including: draft on tap, 16oz cans (4-packs and cases), 32oz crowler cans, 64oz refillable growlers, and rental kegs (1/6bbl and 50 liters).  
We have a nice selection of soft drinks, wine, and ciders for you to try.  We also have a selection of snacks as well to enjoy during your visit.  Check out our list of vendors that might be on-site when you come in for a pint.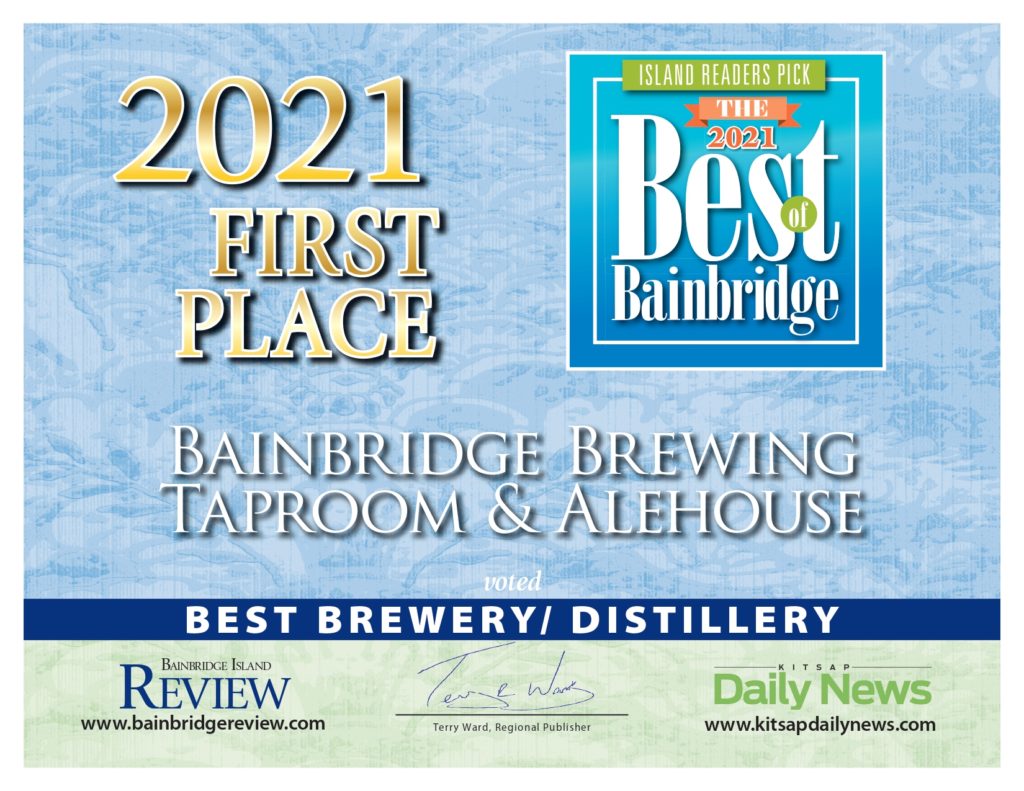 AVAILABLE ON DRAFT AND IN 16oz. CANS
Kömmuter Kölsch is our Sip Magazine "Best of the Northwest" six-time medal winner, a WA Brewers' Choice Awards 2018 Gold Medal winner, and the go-to beer that our Brewmaster drinks after a hard days work! A light and malty German-style ale, Kömmuter Kölsch is the beer of Kuln (Cologne) Germany and is brewed like a lager for maximum clarity and a bright, clean, refreshing taste. Malt: German Pilsner, Vienna, Carahell, and Saurermalz. Hops: Sterling. 5% ABV
AVAILABLE ON DRAFT AND IN 16oz. CANS
Eagle Harbor is our WA Beer Award award-winning interpretation of a classic Northwest India Pale Ale (IPA). The 'More is More!' camp moved this noble style ever in the direction of increased alcohol and strong bitterness. But we've taken a step back, thought about what makes a great every-day IPA, and kept with our beloved Northwest IPA roots. Malt: NW Pale. Hops: Cascade, Centennial, Crystal, Mosaic, Azacca and Apollo. Dryhopped and ran through many pounds of whole leaf Cascade in our hopback, Eagle Harbor has a firm hop aroma, supported by enough malt character to keep you coming back for more. 6% ABV.
Arrow Point Amber Altbier
Arrow Point is our WA Beer Award, multi-award winning German-style Amber Altbier. It's darker and maltier than our Kölsch Ale and has a strong malt-forward character accented with Noble hop flavor and aroma. Malt: Pilsner, Vienna, Red-X, Blackprinz, Carared and Aromatic. Hops: Sterling. 5.5% ABV.
City Lies in Dust Hazy IPA
AVAILABLE ON DRAFT AND IN 16oz. CANS
City Lies In Dust is our year-round Hazy IPA, double dry-hopped and brewed with Amarillo, Cryo Mosaic, Bravo and Sterling hops. The malts and grains include Golden Promise, Carapils and Aciduated malt, plus Wheat, Flaked Oats, and Flaked Barley for a nice hazy finish. This recipe delivers flavors of citrusy grapefruit, tangy blackberries, and tropical fruit. 6% ABV.
AVAILABLE ON DRAFT AND IN 16oz. CANS
Windfall is our two-time award-winning West Coast-Style IPA made with Amarillo, Azacca, and Centennial hops paired with a citrus punch of Grapefruit, Blood Orange, and Tangerine oils. The result is a well balanced, refreshing, citrusy IPA. Malt: NW Pale, Special Aromatic, and Light Crystal. 6% ABV.
An ode to our favorite classic Pacific Northwest style, the Northwest Winter Warmer. Malty and dark with notes of caramel, raisin, pine, and cedar, with enough alcohol to keep you toasty despite the chilly rain! With a Hopback addition of fresh cut Doug Fir boughs, this beer reminds us of where we live, surrounded by beautiful evergreen trees in the Pacific Northwest! 6.2% ABV.
Our Munich Lager is a mix of two traditional German lagers – Märzen and Helles – though not as dark as a Märzen, and not as light as a Helles. It's super clean, rich, and malty- our annual Oktoberfest-y lager! 5.8% ABV.
Reverend Doctor Jones' Flying Circus ESB on Nitro
Nitro beers originally were developed to mimic the soft creaminess of a good English cask ale, and this ESB hit's the nail on the head! Bready, Raisiny, Woody, and Earthy, yet expertly balanced via the addition of Nugget Hops, Reverend Doctor Jones ESB is ready to be enjoyed in our "pubs" again and again! 3.7% ABV.
2021 Sangio Blonde Sour Ale
Each spring, we take viognier white wine barrels and fill them with a portion of that season's Bainbridge Blonde Ale! We then add some pressed Sangiovese grape juice, brettanomyces, and let these things work in concert with the existing bacteria cultures living in the barrel from past season's aging. The result is a winey, deliciously tart, fruity, lightly funky sour ale! 6.5% ABV.
Dark, bold, and rich, our American Stout features a complex roasted malt flavor without being overly bitter. With added notes of caramel, chocolate, and vanilla, Battle Point is smooth as silk and dark as night! 6% ABV.
Bainbridge "Bainier" Lager
Our light and crisp American Lager is brewed in the Skagit Valley Malting Copeland Pilsner malt, a bit of flaked brown rice, and just the right amount of Sterling and Azacca hops for balance. The perfect beer for a ball game, camping trip, fishing excursion, beach day, or just about any day! 4.2% ABV.
This Northwest Style IPA is brewed exclusively for our nearby friends at Clearwater Casino and Resort. It's a flavorful and hoppy IPA featuring lots of Centennial hops with intense citrus aroma and pronounced lemon and floral flavor notes. 6% ABV.

Whether you're looking to have our delicious craft beer on draft in your home kegerator, or need a couple of kegs for your wedding, anniversary party, or other private event, we have you covered! Click HERE to get a keg of Bainbridge Beer!
GUEST CRAFT BEERS ON TAP / NW CIDER ON TAP, CAN OR BOTTLE / WA WINE BY THE GLASS – At both brewery locations, we also have other guest craft beers on tap, NW ciders on tap and in bottles and cans, and WA wine by the glass. Bring the whole crew and check out what's new!