The Taproom has a wide variety of craft beer, cider, wine, kombucha and soft drinks. It has also expanded its tasty food menu including a charcuterie and cheese plate, smoked salmon spread and olive plate, smoked salmon and cheeses, a variety of smoked nuts and flavored chips, and of course, CB's peanuts. Really hungry? Feel free to bring in your own meal or order out pizza. We also have rotating mobile food vendors (days vary) and That's a Some Pizza and Sweet Dahlia Bakery next door. No beverages may be brought into the Taproom due to license restrictions.
Taster 5oz…$3-5
Schooner 13oz…$6
Pint 16oz…$7
Big & Rare 13oz…$8
Barrel Aged / Sour 13oz…$9
Flight of 4 Tasters…$11
Crowler…$9-12
Squealer Fill…$7.50-10.50
Growler Fill…$13-18.50
New Growler + Fill…$21-26.50
1/6 Barrel Keg (5.16 gal)…$89-104
50 Liter Keg (13.21 gal)… $165-185
Keg Party Tap Rental…$12
Keg Ice Tub Rental…$0 (When Available)
Get all the details on Keg Rentals here.
Kommuter Kolsch
Eagle Harbor IPA
Windfall Citrus IPA
City Lies in Dust Hazy IPA
8th Anniversary Ale (Barrel Aged Imperial Stout)
All Soft Drinks…$2.75
Mexican Coke
Diet Coke/Diet Pepsi
Sprite
Bedford's Root Beer, Ginger Beer and Creme Beer
Perrier Sparkling Water
San Pellegrino Juices and Apple Juice
NA Beer: Clausthaler…$5
Iggy's Kombucha…$5
Caps…$21-31
Logo Pint Glasses…$5
Growlers (empty)…$8
Pullover Hoodies…$30
Quarter Zip Hoodies (XL)…$35
Full Zip Hoodies…$42
Men's Short Sleeve T's…$21
Men's Long Sleeve Shirts…$22
Ladies' Short Sleeve V-Necks…$21
Ladies' Long Sleeve Shirts…$22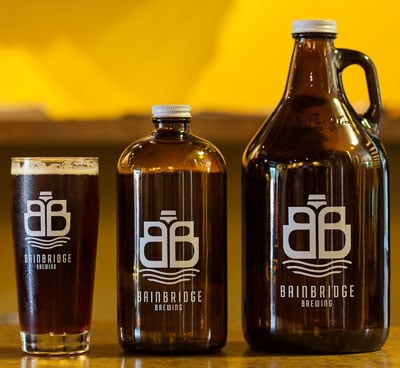 Guest Ciders on Tap (10oz glass)…$6.50-8.50
Tieton Cider Works (500ml bottle)…$11
Finnriver Ciders (500ml bottle)…$11-12.25
Rev. Nat's Cider (500ml bottle)…$11
Crimson Cove Smoked Spiced Nuts…$4.75
Kettle Chips or Mini Pretzels…$2
CB's Nuts Jumbo Peanuts… $2
Crimson Cove Smoked Pistachios or Cashews…$4
Charcuterie & Cheese Plate…$13
Smoked Salmon Spread & Olive Plate…$11
Crimson Cove Smoked Salmon & Crackers…$10
Crimson Cove Smoked Cheese & Crackers…$5.50