The Most Wonderful Time of the Year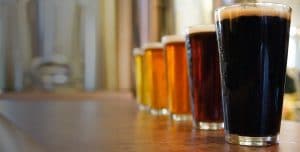 Well it's been an eventful Summer. Brewed more beer than ever. Started bottling Windfall Grapefruit IPA. Added another distributor, taking our reach out across the Olympic Peninsula. Brought in some new fermenters. Got our awesome new beer filter up and running. Now it's finally time to take a breath as we slow down for the off-season around here. A time of darker, heavier, more high-octane beers. A time to brew and release some of the sour projects we have going in the background. A time to enjoy the constant rain with a nice pint in hand, in a taproom full of friends and good cheer.
First up this season is Wing Point Winter Ale. We've brewed this annually since we opened and it is easily one of my favorite beers. Big, malty, complex…NW Winter Ales are probably my 'Desert Island Beer'. This year we decided to up the hops a bit, hitting it with a burst of Centennial and Willamette. And also, a word on Spruce Tips. A lot of 'Winter' beers use spruce tips to give it a piney, Christmassy character. But spruce tips are fresh in SPRING. They're full of vitamin C and good for you if, like Captain Vancouver's crew, you have scurvy. But they aren't fresh in Winter. So I cut some Doug Fir and Scotch Pine boughs out of my front field and we put them straight in the kettle. I'm really happy with the results, not the 'Pine-Sol' thing you can get with too much spruce tips, but a nice, earthy, resiny, background piney oomph. Try it for yourself!
December means BIG BEERS. In years past we've made Old Toe Jam Barleywine, and some from 2014 will make an appearance in the taproom this year, but this year we decided to take it in a different direction. Based on what we learned making our 4th Anniversary Barrel Aged Chocolate Imperial Stout, I feel like we've got a better handle on cacao nibs. And a new chocolatier is opening in the complex… And we really, really like our Baltic Porter. So this year's big Winter beer is a Chocolate Baltic Porter. Complex in the utmost, with raisins, chocolate, prunes, coffee, roast, and CHOCOLATE. (And 9% Abv.) It's going to be epic. Release should be around December 1st.
Sours! We've got some amazing sour beer projects coming up. Not your mamby pamby BS kettle sours! We're talking three years+ in barrels. First up is Project Res Judicata. If you've been to the taproom you know these as the barrels labelled Blue Steel, Le Tigre, Ferrari, and Magnum. A dark Belgian aged on a blend of brett, lacto, and god knows what that I've been cultivating since 2011. Finally time to get it out! We'll follow it up with another barrel project in Spring. A sour dark in second use whiskey barrels for two years, aged on tart pie cherries for a year and a half. Look for it in February…
January means Rabbie Burns' Night and that means Bonnie Prince Scotch Wee Heavy! Our annual big mean malty, slightly peaty, high octane salute to men in skirts everywhere.
Before long we'll start moving toward Spring. Bainbridge Blonde… India Pale Kolsch…
---